Winners of "BesTіrek" Program 2018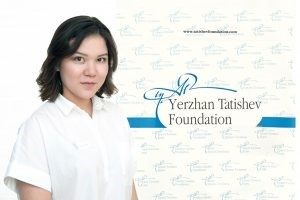 ALIMKHANOVA KAMILLA
Kamilla Alimkhanova graduated from the Nazarbayev Intellectual School of Physics and Mathematics in Taldykorgan. Kamilla takes an active part in various social projects such as the creative project of Marin Buber University (Netherlands) "Youth in Dialogue". Moreover, she coordinated the social project "Care" and "Do good". Also, she was the leader of her class and a member of the self-government council. She was awarded with trips to Germany and Korea for her active participation in school and public life. Beyond that, she is fluent in English and Korean. Kamilla's hobbies are dancing and singing. All in all, Kamilla is a hardworking girl. She is a go-getter. She believes that her biggest strength is persistence in achieving her goals. She has her own point of view, but at the same time, she can easily temporize with people and find benefits in any situation.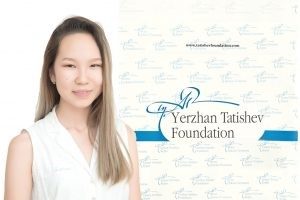 KARIYEVA AIGERYM
Aygerim Kariyeva graduated with honors from the school № 145 named after Al Farabi in Almaty. Aigerim considers the birth of her youngest sister to be the happies moment of her life. She tries to be a mentor for youngers, by supporting them. Aigerim has a strong leadership potential, huge working capacity and remarkable analytical mind. She is passionate about self-development. She took vocal lessons. Moreover, she has been voicing videos since the age of 11. Aigerim participated in many TV shows and theater plays. Aigerim's major achievement happened in collaboration with Walt Disney and Adam Media Group, when she voiced the characters of the movie "Maleficent" and "Cinderella" in Kazakh language.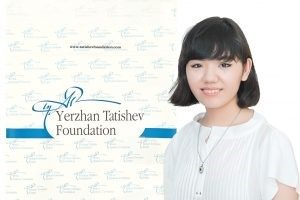 KUANOVA SALTANAT
Saltanat Kuanova is from Almaty. She graduated from high school №94. Saltanat is outstandingly hardworking and purposeful girl. Saltanat demonstrates herself as a confident leader as well as reliable partner. Teachers note her motivation for personal growth, the ability to quickly have her work done, paying great attention to details. Saltanat started working as an aqua makeup artist, when she was a teenager. At that time, she became interested in tattoo art, so she decided to learn from professionals.  Afterwards, she practiced her skills drawing sketches. After all, Saltanat won the competition of the manufacturer of fountain pens. Nowadays, she is the master of the tattoo salon and she hopes that this current hobby will become a serious business for her.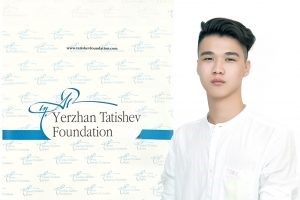 KULAKEYEV OLZHAS
Olzhas Kulakeev was born and raised in Shymkent. He is a graduate of the Nazarbayev Intellectual School of Physics and Mathematics in Shymkent. Olzhas is an ambitious and purposeful young man. He tries to develop in various directions. He is the participant of many sports competitions, competitions of scientific projects, school concerts, the volunteer of the Red Crescent and the project Charity Wish Tree. He writes poetry and enjoys psychology. He is seriously engaged in oratory. Olzhas is interested in practical and research work. he is characterized by accuracy, precision and the ability to think conceptually. Teachers especially emphasize his phenomenal memory. One of his greatest accomplishments is the third place in the competition of scientific projects of the pharmaceutical company "SANTO". Moreover, Olzhas served as Minister of Discipline in high school.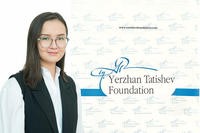 TASBULATOVA DANA
Dana Tasbulatova grew up in Almaty. She graduated from the College of Economics at Narxoz University. Dana was able to demonstrate her strong leadership skills, when she became vice president of marketing department of AIESEC organization and managed a team of six people. Also, she approved herself as an SMM specialist at "Zhana yrpak" leadership school. In addition, Dana can combine different activities. Furthermore, she always brings the work to the end, focusing on the results. For example, Dana together with her AIESEC team, which involved 80 new members, was able to put into action 6 projects. Along with it, she started to earn her own money by the sale of her paintings and handicrafts. Subsequently, all these actions influenced her choice of profession. She wants to create such an information resource for young people of Kazakhstan, where they can learn about various student associations and different opportunities to help the community.
SHAIKIYEVA MADINA
Madina Shaykieva was born in Oskemen. She graduated with honors from the regional specialized lyceum for children gifted in mathematics, physics and computer science. Madina is a very inquisitive and ambitious girl. She is keen-set for her goals. Madina has an ability to quickly solve mathematical problems of different levels of complexity mentally. Furthermore, she is a holder of a first-degree diploma of the Republican Mathematics Olympiad. Since childhood, she saw how her parents overcome the most difficult periods of their lives through hard work and perseverance. Nowadays, Madina helps her parents in their small family business. In the future, she wants to diversify the range of products, expand business and enter a larger market.
Қайырымдылық жасау! Сделать пожертвование!
(RU) Пожертвование
(RU) Все средства собранные за счет благотворительных пожертвований, будут использованы для выделения дополнительных грантов. До 16 марта 2021 года за взносы, сделанные до 16.00, комиссия составляет 0 тенге!