Winners of "BesTіrek" Program 2017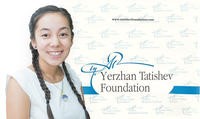 BALABEK MARZHAN
Marzhan is a resident of the city of Taraz. She has a large and friendly family: mother, two younger sisters and a younger brother. Marzhan never stands still and is constantly engaged in self-development: he participates in scientific conferences, competitions and debates, attends oratory courses, is fond of "Tokyz Umalak". She graduated from a music school in piano, and independently learned to play dombyra. Marzhan is a responsible, organized, able-bodied and ambitious person who sets high standards. In 2016, she became a finalist of the FLEX Program and graduated from the last grade of high school in Toscaluza, Alabama, USA. From many peers, it is distinguished by maturity and the ability to think independently. Marzhan is a very positive and friendly girl, in her busy schedule there are always several hours a week for volunteering. To date, she has more than 100 hours of volunteer work. Having gathered like-minded people, she created a group of volunteers called "Feel and Care". Volunteers packed up and helped an elderly woman who lived in an abandoned house with four grandchildren. The guys helped the eldest granddaughter finish the cosmetologist courses, and also found an apartment for the family for a low rent. In the future, Marzhan wants to organize language courses with native speakers and is already creating a network of partners for her startup.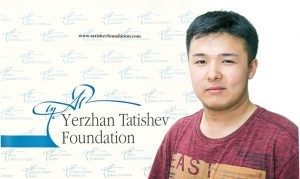 DAULET-KAZHY MUHAMMED
Muhammed was born and raised in Shymkent. This year, Muhammed graduated from the Kazakh-Turkish Lyceum in Shymkent. In the piggy bank of his significant achievements – 2-place at the regional mathematics Olympiad. Muhammed, like many older children in the family, understands that it is a guide for his five brothers and sisters, and tries to approach everything responsibly and reasonably. The intellectual modesty is hidden behind this guy's external modesty, his ability to mobilize resources, intelligence and a high level of spiritual development at the right time. Muhammed is fluent in Kazakh, Russian, English, Turkish, has developed logical thinking and is diligently developing his abilities. The close environment characterizes him as an example of hard work and responsibility. Muhammed sees his business in information technology.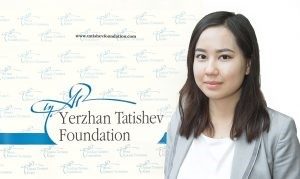 KAZAKHSTANOVA ZHANIL
Zhanyl at the competition represented Astana. Zhanyl graduated from high school number 76. Among her achievements – a prize in the city olympiad in English, participation in the national debate championship. She took over entrepreneurial skills from her mother, who has her own small business. From the age of twelve, Zhanyl earned on her pocket expenses, earning money as a photographer, a master of temporary tattoos, but the online store brought her the greatest success. Together with her best friend and business partner, Zhanyl sold her own made anti-stress plasticine and earned her first million tenge. The case not only brought substantial income to the Zhanyl family, but also taught her to work with clients and promote goods on the Internet. In the latter, she contributed to the experience of writing promotional articles for window companies, post-releases of various events, interviews with stars. The choice of the University was influenced by the success story of the Almaty Management University graduate, a successful young entrepreneur, Abylay Yusupov. Zhanyl sees himself as the head of the center for personal development, where adolescents aged 10-18 will receive help in career guidance, will be able to master 3D-modeling and robotics.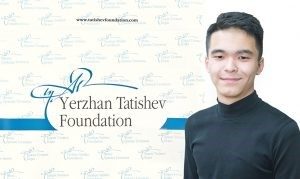 ABITAI AZAMAT
Azamat graduated from the Lingua College of Foreign Languages ​​in Karaganda with a degree in translation. Azamat is a winner of subject Olympiads and chess tournaments, the best translator among 3 courses of the College. During his studies, he realized his organizational and leadership abilities in the role of the chairman of the collegiate council "Zhiger" and the president of the College. Azamat pays attention not only to the development of leadership skills, he is a member of the KVN team, is engaged in hand-to-hand combat, is fond of photography and attends DJ courses. The recommendations from the teachers of the College emphasized his flexibility of mind, the ability to quickly absorb new information, the ability to set and achieve goals, willpower and developed logical thinking. Also among its positive qualities – non-conflict character and the ability to adequately perceive criticism. From the age of thirteen, Azamat has been earning his pocket money by working as a promoter and photographer. In high school, he, along with his best friend, already managed a serious matter – he rented out a cafe, and next summer he was able to invest his profit in the sale of ice cream. Azamat highly values ​​family values ​​and realizes that he should become a support for his mother and older sister.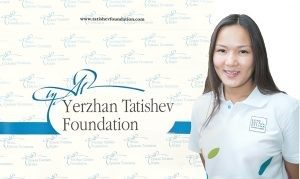 KENES AYAZHAN
Ayazhan is a graduate of the Aktobe Humanities College majoring in English as a secondary school teacher. Ayazhan actively participated in various competitions of scientific projects, scientific and practical conferences, debates, took 3rd place in the regional competition of speakers and 1st place in the regional Olympiad in English. During her college years, she established herself as an ambitious, creative, responsive and sociable person. Ayazhan is inherent in its own effective style of performing tasks, inexhaustible creative energy and natural leadership abilities. One of her many achievements is a collection of Kazakh folk tales, which she translated and released in the form of a brochure, "Learn English with Swallow," which is used as an auxiliary material for college students. Ayazhan proved that she is not afraid of difficulties – thanks to her hard work and perseverance, she mastered the profession of assistant cook, accountant and administrator of the hotel complex of Amsterdam LLP in Aktobe. For diligence and responsible attitude to the matter, the employer trained her in accounting courses at his own expense. Ayazhan dreams of realizing his old dream – to open a hotel complex in the style of ethno-auyl and to acquaint foreign guests with the culture of nomads.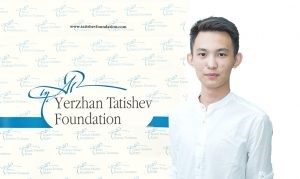 TOLEUBAEV ALMAS
Almas grew up and studied in the city of Karaganda. Almas is a graduate of gymnasium No. 92 and a participant in distance olympiads in various disciplines, attends business youth workshops. Of all school subjects, he was enthusiastically engaged in mathematics and successfully completed a course in combinatorics. The young man seeks to reveal his intellectual and creative facets: he creates films, videos, is interested in economics, ecology, devotes time to studying foreign languages. Almas – a team player, knows how to take on the role of an inspiring leader and engage others in work. Difficulties that arise in his path are accepted with optimism and always find alternative ways to resolve them. The decision to realize himself in business came to him in his childhood, so he constantly reads literature on entrepreneurship and marketing, studies the market. Today Almas is conducting a small business – selling knitted ties. In the future, he would like to fully realize his potential and fill up the list of successful young entrepreneurs of Kazakhstan.
Қайырымдылық жасау! Сделать пожертвование!
(RU) Пожертвование
(RU) Все средства собранные за счет благотворительных пожертвований, будут использованы для выделения дополнительных грантов. До 16 марта 2021 года за взносы, сделанные до 16.00, комиссия составляет 0 тенге!