Winners of "Get Metier!" Program 2017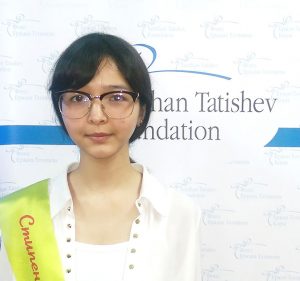 AHMETOVA ALUA graduated from school № 122 in Almaty. Alua is a very positive, kind and open girl. She is the eldest of three daughters and a great assistant to her mother. For health reasons, she was at home for several years, which made her a highly organized, independent and responsible person. Every day, Alua plans his studies and leisure, compiles a daily schedule of his affairs. In addition to school subjects, she independently studies Chinese, Japanese, English and Korean. The hobby that captivates her the most and takes up most of her free time is painting. From school subjects, she likes biology, physics and the history of Kazakhstan. Alua found out about the educational grant competition of the Fund through the Sadag Foundation and decided to try her luck. In the future, she wants to create her own business and work with foreign companies, but for now, she has decided to master the management skills she needs at MAB College.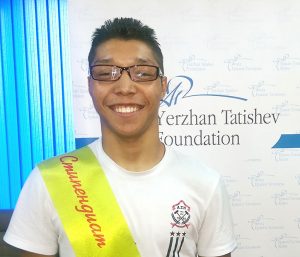 KUDAYBERGEN TEMIRLAN – graduate of the special correctional boarding school № 2 of Almaty. Temirlan is the only child in the family, despite this, he is not spoiled and quite independent. At school, he studied "excellent", and chemistry was his favorite subject. As a child, Temirlan was a very weak child, due to frequent illnesses, the idea was rooted in his mind that thanks to the right treatment, one can save a person's life. The idea to help people in the fight against their ailments influenced the choice of professional sphere. Temirlan wants to become a dental technician, and he will receive the necessary knowledge for this at the Republican Medical College in Almaty. Temirlan spends his leisure time at a game of chess, and enjoys football and swimming. Another of his hobbies is pottery, he believes that the ability to feel the material and the ability to transform it into some form is an important skill that will be useful to him in his work. After graduating from college, he plans to continue the study at the university.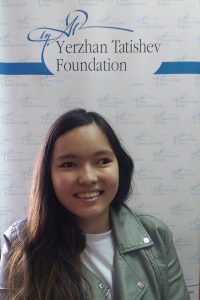 SEITBEK ASEL graduated from special correctional boarding school № 2. Asel has many achievements in various competitions and contests. According to her, she is organized and persevering in achieving the objectives. Asel loves clarity in everything and soberly values her capabilities. Relatives and relatives notice her stubborn character and excessive perfectionism, however, these qualities help her in achieving the intended result. Last year, she underwent a difficult selection under the FLEX Program and throughout the entire academic year lived independently, away from her family. The girl is fond of beadwork, loves to read, independently learns Spanish. Asel considers herself as fighter for justice and in any case welcomes honesty and openness. She wants to be realized in advocacy, and a grant from the Yerzhan Tatishev Foundation will help her master the profession at Turan College.
Қайырымдылық жасау! Сделать пожертвование!
(RU) Пожертвование
(RU) Все средства собранные за счет благотворительных пожертвований, будут использованы для выделения дополнительных грантов. До 16 марта 2021 года за взносы, сделанные до 16.00, комиссия составляет 0 тенге!